ALFA-METAL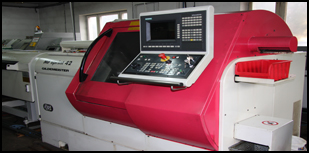 ALFA-METAL Established in 1981
We specialize in the production of parts on automatic lathes.
Thanks to the diversity of technical equipment we can produce a wide range of products

Goal :
The aim of the company is to provide high quality products that meet customers' requirements and expectations.

Machine Park :
We have high-performance serial production automatic lathes 6-spindle and single-Gildemaister and longitudinal CNC turret. Workpiece diameter range is from 2 to 63 mm with the possibility of increasing the range. Applied technologies guarantee the repeatability of dimensions and surface quality of machined

Our machinery complement machine such as :
- Lathe: universal turret
- Grinding: Surface, Cylindrical, optical, sharpener
- Thread rolling machines
- Bandsaw
- Press and drills

For a comprehensive treatment of details take are :
- Galvanic processing (zinc plating, nickel plating, silver plating, phosphating, blackening)
- Heat treatment (hardening, carburizing)

Motto of our Company :
Our motto is to meet the demands and needs of our customers and for them to be a reliable business partner "